Music
BUSHLAND BOOGIE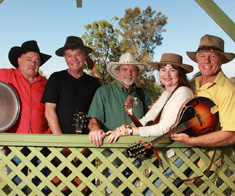 Bushland Boogie is a band that has been around for almost a decade. Along the way there has been a successful debut album called 100 Years Australia which made it into the Top 10 of the Band Section of the Gold Guitars in Tamworth in 2004 and also won writer Graham Scobie a Tamworth Songwriters Association Award for the title song.
But Bushland Boogie is much more than a country band as you will see from the backgrounds of the five members:
Graham Scobie
Graham Scobie is the lead singer and main songwriter of Bushland Boogie. He has a music career going back more than 30 years since he made his debut as a busker in the London Underground in 1977. He still plays the same guitar he bought in London as well as mandolin and harmonica. He also has two solo albums to his credit, By the Banks of the Billabong which was a finalist in the 2001 Tamworth Songwriters Association Awards and Aussie Gospel Bloke which won an Australian Gospel Music Award in 2006.
Michelle Scobie
Michelle Scobie began her entertainment career in the Johnny Young Talent School in Sydney where she studied various forms of dance. She also sang in school choirs and productions and is currently Sunday music leader at Sacred Heart Church in Moruya. An accomplished songwriter, Michelle plays acoustic guitar in Bushland Boogie and sings lead and backing vocals. Outside the band she is President of St Mary's School Parents and Friends and Deputy Chairperson of the School Board. Michelle works in the banking industry and is also a qualified teacher.
Keith Joliffe
Bushland Boogie's bookings manager Keith Joliffe is a Jazz, Folk and Country bass guitarist from Tuross Head NSW. Keith's decade-long musical affiliations outside Bushland Boogie include 'Round Midnight (Canberra based jazz guitar duo), Tribe (Canberra based folk-rock and world music ensemble), Jazz'em (Batemans Bay based swing group) and Musica da Ballo (Long Beach based latin dance band). Keith is a member of the Moruya Jazz Festival Committee and co-presents a weekly program on Eurobodalla Community Radio 2EarFM. Like Michelle Scobie, Keith has an education background, enjoys helping entertain people of all ages and offers festival workshops. He is a keen volunteer administrator and environmentalist, as well as an amateur publicist and outdoor sportsman. Keith also supplements Graham Scobie's public presentation skills, adding a second experienced MC and venue manager to the band's curriculum vitae.
Chris Curtis
Originally from Melbourne, Chris has played lead guitar for many years. He has mainly been involved in original rock bands,country and rock cover bands. His influences range from classical to modern contemporary music. He has studied classical and jazz guitar but finds his voice today in more contemporary individualistic styles. Whilst being busy with family life in recent years, Chris has maintained his skills via jamming and honing his original compositions. His influences include Neil Young, Leo Kottke, Brian Eno and Larry Carlton to name a few. By day an IT professional, outside of that it's family, surfing and music.
Bud Dumas
Bud Dumas is the Bushland Boogie drummer. His career spans almost half a century, starting in his homeland of the United States and continuing through just about every style of music imaginable including jazz, rock, gospel, country and bush. He is a qualified architect, artist and town planner and has made his mark in Sydney in these three fields over a 38 year professional career. Contemporary Christian music and his spiritual journey play an increasingly large part in Bud's musical life.
Between them the members of Bushland Boogie are able to construct a performance of live music that can suit a great variety of occasions ranging from pubs and clubs to weddings and bush dances. The easy rapport between the band personnel ensures a lively atmosphere and a guarantee of a good time for all present.